About Fitness Pilates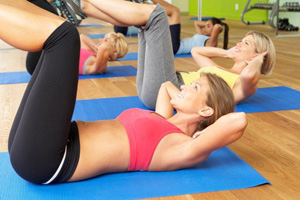 Fitness Pilates is a fusion of Pilates and dance exercises. It helps to develop muscle tone, balance, flexibility and relaxation.
Suitable for all ages and abilities.
The class involves standing and mat work.
Class is normally done in bare feet or socks.
Wear comfortable loose clothing.
Please bring your own mat. You may like to bring a towel and a drink.
Fitness Pilates is a modern, research based group fitness class created for the apparently healthy adult.
It is neither remedial, clinical nor is it designed for rehabilitation.
The Technique
The Fitness Pilates technique involves strengthening the muscles around the centre of your body; these include your abdominal muscles, the muscles in your lower, middle and upper back, the muscles that are responsible for your posture. Pilates focuses on the deepest, supportive muscles that control your spine and abdominals.